Tax Scams
Who's the target?
This scam targets a variety of age groups.
What's the scammer's goal?
To obtain your money and other personal information by impersonating an IRS agent collecting payment.
How do they do it?
Tax scams take many forms, but they all start with someone calling you or contacting you through email, text message, or mail claiming to be from the IRS. Some scammers will tell you that you owe additional taxes, and if you don't pay right now or send immediate payment, you'll be arrested. They may claim that a form you filed for your taxes was missing information and ask you to give them the details directly. Scammers have been known to tell you your identity has been stolen and you need to pay to fix it. The common signs of these scams are that the scammer demands urgency, requests payment immediately, and threatens consequences for not complying. Every scammer's goal is to gain your trust in order to gain access to your personal information, and your wallet and tax season provides them another opportunity to do so.
Red flags:
They're requesting your personal information over the phone
They're telling you that you need to pay immediately
They say if you don't pay, they will send law enforcement to arrest you

How can we stay safe?
Remember that the IRS doesn't make phone calls to demand tax payments, they will most often communicate by mail
Keep in mind that the IRS will never threaten to immediately bring law enforcement groups to have the taxpayer arrested for not paying
Know that the IRS will never specify payment method, such as a prepaid debit card, gift card or wire transfer, or ask for card numbers over the phone
If you think you have been scammed:
Contact all your financial institutions as soon as possible
Report the tax scam at tigta.gov
Contact FTC.gov
Contact the Social Security Fraud Hotline (if applicable)
Contact the DMV (if applicable)
BHCCU Resources
Blackhawk Community Credit Union will never contact you and ask you for your username, password, secure access code, IP address, or full account number. If you receive such a message via call, text, or email, please do not respond. You can always call us directly to confirm: 800.779.5555.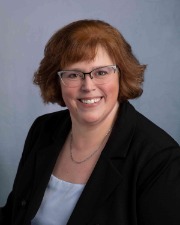 Angie Hoium
BHCCU Fraud & BSA Officer
to learn about upcoming events
hosted by Angie. These seminars
feature an honest conversation
about fraud and ways to keep
yourself safe.