Learn how to keep safe from potential scams and fraud
Join our very own Angie Hoium for an honest conversation about scams and learn how to keep your money safe.
Thursday, June 15
2640 Court Street, Janesville
Call today to reserve your spot: 800-779-5555
Elder Abuse Awareness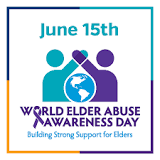 World Elder Abuse Awareness Day (WEAAD) is observed each year on June 15th to provide an opportunity for communities around the world to promote a better understanding of abuse and neglect of older persons. 
Check out the articles below for more information about how you can identify, prevent, and take action against elder financial abuse.