We believe in empowering young people
We're proud to add a little extra to our community's school curriculum. Our financial literacy initiatives help students learn to manage money, allow them to work in a credit union setting, and put them on the road to becoming financially responsible adults.
High School Branches
We've set up credit union branches in both of Janesville's high schools - Craig and Parker - that are staffed by dedicated students who work during lunch hours. These bright young employees are also involved in promoting financial education to classmates through classroom presentations and fun games, such as Financial Fun Fridays and Trivia Tuesdays. They even go above and beyond to share the importance of the credit union industry with their high school community by practicing peer to peer education and celebrating National Credit Union Youth Month (April) every year with special games.
Recognizing a need to go beyond financial literacy, our high school students decided to follow the credit union's mission of serving their communities. As in-school branches, the high school is their community so the students decided to create an annual initiative to donate to the Parker & Craig Closets. The students collect and donate money, clothes, snacks, and personal hygiene items to classmates who cannot afford them. 
We're extremely proud of our students at the Craig and Parker branches. Their dedication has changed the lives of many young adults!
Youth Apprenticeship Programs
We sponsor Youth Apprenticeship programs in the Milton, Edgerton, Stoughton, Beloit, Kenosha, and Williams Bay school districts. Through these programs, student tellers gain valuable real-life experience and high school credit while working at our branches.
Financial Literacy Resources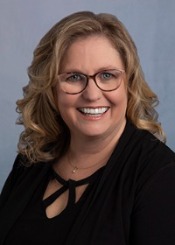 Teresa Riesterer

Director of Financial Literacy and Community Outreach