Scammer Payment Methods
Scammers prefer to receive money in ways that are not traceable or reversible and will always encourage a form of payment transfer that does not offer a lot of protection to recover your funds. Because of this, they will most often request you pay them by gift card, cash, wire, P2P payments, or cryptocurrency. Read below to learn more about these payment methods and always be wary of someone you don't know personally requesting one of the following forms of payment:
Gift Cards
Gift cards are readily available at almost any retail store, and they have fewer protections for buyers compared to some other payment options. Most often, scammers will even demand you purchase specific gift cards. Popular gift cards requested are Target, Walmart, Best Buy, and drug store gift cards. These fraudsters will even demand you travel to multiple store locations to spread out the purchases so store employees do not catch on or question you. Once you've purchased the cards, all they need are the card numbers and codes in order to draw on those funds immediately. These gift card transactions are almost always irreversible and untraceable.
Cash
Cash is king, with regular folks and scammers alike. All major postal services forbid people from sending large amounts of cash through the mail, so the scammer will often request that you wrap the cash in aluminum foil or other material that will prevent it from being detected on a scan of the package. Once cash is sent, there's no recovering it.
Wire Transfer
Companies like Western Union and MoneyGram make it easy to send funds quickly to friends and family. However, scammers take advantage of the quick retrieval and limited protections to abscond with your cash. With the rise of digital banking options, wire transfers initiated these days process almost instantly.  Fraudsters can quickly receive the money, move it into another account, and vanish before the victims have time to cancel or reverse the transfer.
P2P Payments
P2P stands for Peer-to-peer payments provided by services such as Zelle, Venmo, and CashApp. Since these services are designed for folks to send money easily to friends and family, they offer limited protections to recover funds that were sent to a scammer.
Cryptocurrency
Cryptocurrency is a form of digital currency that can be purchased though a phone app, a website, or ATM. Some of the most well-known cryptocurrencies include Bitcoin and Ether, but there are many different types of this digital currency. These are particularly attractive as payment methods for scammers because they don't have the same legal protections as a federally insured bank or credit union and these payments can rarely be reversed.
BHCCU Resources
Blackhawk Community Credit Union will never contact you and ask you for your username, password, secure access code, IP address, or full account number. If you receive such a message via call, text, or email, please do not respond. You can always call us directly to confirm: 800.779.5555.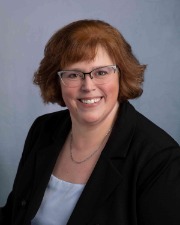 Angie Hoium
BHCCU Fraud & BSA Officer
to learn about upcoming events
hosted by Angie. These seminars
feature an honest conversation
about fraud and ways to keep
yourself safe.