Mortgage Scams
Who's the target?
Adults who are in the process of purchasing a home.
How does it happen?
When you're getting ready to close on a new home, there are a lot of moving parts to manage. As you work through this process, you may be receiving emails and phone calls from a handful of different agencies. Scammers take advantage of this barrage by intercepting or impersonating communications that have to do with your mortgage in an effort to steal from you. 
These fraudsters use a tactic called phishing to hijack or spoof the email account of a real estate agent, financial representative, or legal counsel. The scammers will craft emails that look identical to the legitimate ones, telling you that the instructions for wiring your closing costs have changed at the last minute, and new instructions directing you to the hacker's account. If you're not paying close attention to the warning signs of this scam, you may end up wiring funds to the scammer instead of the legitimate recipient.
Red flags:
They email you with new last-minute payment instructions
The email has typos, or the formatting is not the same as previous emails with this person
They emphasize the urgency of the situation, stressing that you need to act now
How can we stay safe?
Take your time and read with a discerning eye when answering emails
Don't open emailed attachments from anyone, including a lender or real estate company unless you were specifically expecting it
If an email seems suspicious, pick up the phone and call the sender at their verified phone number before acting
If you think you have been scammed:
Contact all your financial institutions as soon as possible
Contact FTC.gov
Contact the Social Security Fraud Hotline (if applicable)
Contact the DMV (if applicable)
BHCCU Resources
Blackhawk Community Credit Union will never contact you and ask you for your username, password, secure access code, IP address, or full account number. If you receive such a message via call, text, or email, please do not respond. You can always call us directly to confirm: 800.779.5555.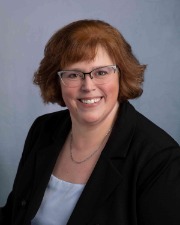 Angie Hoium
BHCCU Fraud & BSA Officer
to learn about upcoming events
hosted by Angie. These seminars
feature an honest conversation
about fraud and ways to keep
yourself safe.