Loan Scam
Who's the target?
Elderly people and folks with low credit scores.
What's the scammer's goal?
To fraudulently obtain your personal identifying information and fee payments for services you won't receive.
How do they do it?
You receive an unsolicited visitor, phone call, email, or text message that seemingly offers you a great rate on a loan. You haven't heard of this financial before, but their rate is lower than any competitor, and the representative is offering to give you this loan without a credit check and even an offer to "cancel" your existing debt. Before you can get your money, you just need to pay a few fees for origination and administration, and they need to be paid by a mobile app, cryptocurrency, or gift cards. The lender is pressuring you to pay right away before the rate goes up, so you act quickly without checking them out.
Once the scammer receives the funds, they may demand more money in order to secure your loan until you run out, or until you catch on to them. This is because the loan scammer wants to obtain this "fee money" and then abscond with your funds and personal identifying information, with no intent of loaning you anything.  Follow the tips below to stay safe, and remember to always research any potential lender by double-checking their email domain, their profile on the Better Business Bureau and the state attorney general's office to verify the lender is registered.
Red flags:
The lender is pressuring you to act immediately, sometimes charging fees upfront
The lender is guaranteeing approval with no or minimal credit checks
The lender claims they can cancel your existing debt

How can we stay safe?
Don't entertain anyone pressuring you to act immediately for a loan
Don't divulge sensitive information like your bank account number, card numbers, PIN, or passwords
Be wary of lenders that only require minimal information and ensure approval regardless of creditworthiness

If you think you have been scammed:
Contact all your financial institutions as soon as possible
File a report on FTC.gov
Contact the Social Security Fraud Hotline (if applicable)
Contact the DMV (if applicable)

BHCCU Resources
Blackhawk Community Credit Union will never contact you and ask you for your username, password, secure access code, IP address, or full account number. If you receive such a message via call, text, or email, please do not respond. You can always call us directly to confirm: 800.779.5555.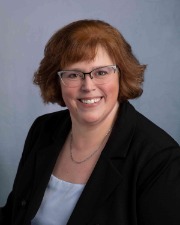 Angie Hoium
BHCCU Fraud & BSA Officer
to learn about upcoming events
hosted by Angie. These seminars
feature an honest conversation
about fraud and ways to keep
yourself safe.